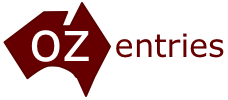 Events @OZentries
It is very simple for you to list your show on OZentries on behalf of your club, and completely free to clubs.
Simply Click on the link above to submit your show schedule to OZentries. Once established you will be provided with your club's login details so that you can manage your show administration.
Published Show Schedule ?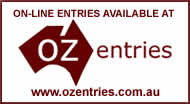 To the right is our OZentries "On-line Entries Available" logo for use on all published show schedules. It is important that when you submit your show schedule to your controlling body (e.g. Dogs NSW, ACTCA, Dogs Vic etc.) this must be included on the show schedule to ensure that exhibitors are made aware that on-line entries are being taken at your show.
To download this place your mouse pointer on this image, right click the mouse, choose "save picture as" and then point to the location to save the file. This is a colour JPG image and is the most universally accepted format.
What we offer ?
This information is available in more detail throughout this website, however below is a summary of what OZentries offers to your club:
On-line entry for all shows and trials throughout Australia.
Access to our exclusive on-line database of previously entered dogs so that an exhibit details can be pre-filled on the entry form.
Use of our SSL secure server for collection of all credit card information. For added security, credit card numbers are definitely not stored on any on-line database or distributed to any third parties.
Production of a printable summary and unique receipt number for every exhibitor who submitted an on-line entry, plus an auto-generated email response containing entry details
Club login (password protected) for show secretaries to manage their show administration. This includes easy display and download facility for all entries received so far, ability to close on-line entries for their own events, download of show collateral, show catalogues and judge books in MS Word format and many other facilities, stewards sheets etc. – see show secretary help for full details.
Exhibitor login to enable exhibitors to manage their own membership and dog registration records.
Special event, club membership, donation etc. payment facilities can also be provided as part of the on-line show entry process.
Terms & Conditions ?