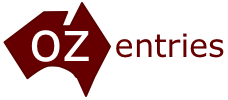 OZentries Knowledge Base
Help Topics
Knowledge Base
Our knowledge base help pages will provide answers to many common questions asked about OZentries, the process of entering on-line and the login process for both exhibitors and show secretaries.
If you are experiencing a problem please read through these knowledge base pages before contacting OZentries support, as your question may already be answered.
Please click on any of the above "help" links to provide help to any of the subjects that you need - a summary of the type of help provided in these pages is:
Enter shows help provides step by step instructions on how to get started right through to completion of entries.
Exhibitor login help takes exhibitors through all necessary functions provided once logged in to maintain your show records. These include verifying shows entered, adding or changing exhibitor and exhibit records and many other functions.
Show secretary login help takes show secretaries and cataloguers through the many show management functions provided once they are logged in.
Contacting OZentries help sets out the best way to contact us with any questions or issues you may have.
Our Frequently Asked Questions (FAQ) page sets out many of the questions asked by exhibitors and show secretaries so that you can easily solve any issues that you many have.
We have also provided a Technical Issues section which covers many areas and questions related to using the Internet to access OZentries and the types of devices and web browsers that can be used.